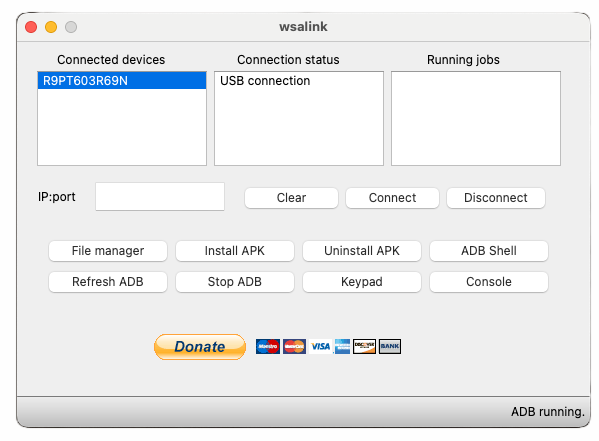 wsaLink provides a link between your Microsoft Subsystem for Android virtual machine and your computer.
Features
Install Programs without Android SDK
ADB enabled console
Busybox
File Manager
ADB Shell
Install/Uninstall Apps
Connect to WSA via localhost or IP
Edit XML and other files on your WSA virtual machine
Log file viewer for wsaLink logs
Hyperlinked HTML Help
wsalink is available for x86_64 Windows only. Currently only Windows 11 supports Windows Subsystem for Android.
Download: wsalink v5.9
Support:
Get wsaLink support via email or online forum
Note: Online forums require registration

Email:
jocala@jocala.com

Forum:
XDA Developers

Installation instructions:
Double-click the downloaded .exe setup file.
wsaLink is built using Qt C++ and is released under the GPL V3.

All releases
wsaLink Changelog
Source code

wsaLink is free. Download/Install at your own risk. No guarantees or warranties given or implied.
Donations to keep this server up and running are gratefully accepted!

Please don't redistribute Jocala Software applications. Post a link to this website instead.